Bulk signing is a powerful feature of SigningHub which allows users to digitally sign multiple documents in one go thus saving substantial time in opening the document and signing them one by one. This feature works both when you are using either a local (client-side) signing keys OR server side signing keys.
To initiate bulk signing, a user can simply select the list of documents from My Desk and click the Bulk Sign button:

The bulk signing screen shows the list of documents you have earlier selected for signing.

If the document can be signed then the Status column will show 'Ready to sign'. If user has selected a document which can't be signed for any reason then a warning icon with reason is shown:

If there is a legal notice associated with a document then the user has to select 'I agree' check box to otherwise the document will not be signed. User can also view the legal notice by clicking the View button. If a document is selected mistakenly then it can be removed from the list: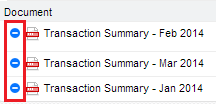 Once user is ready, he needs to click the Sign now button which shows the signing dialog: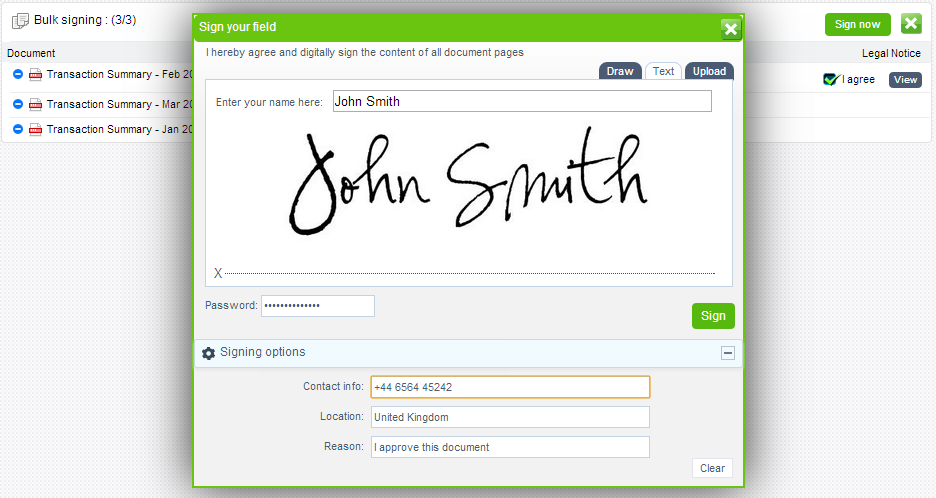 Once user has filled in the required information and click the Sign button, the document signing process starts and user is now shown the real time status of each document as they get signed:

Once all documents are signed, user can close the screen using the right cross button or view the signed documents by clicking the View button.

As you can see, SigningHub makes bulk signing simple and intuitive. This feature is one of its kind (to date there is no similar digital signature product which allows bulk signing) and is designed to save your time by introducing an automated way to digitally sign your document.
Enjoy Bulk Signing and let us know your signing experience!.