Providing business and environmental solutions with bulk signing from SigningHub
If your organisation needs to send out hundreds, thousands or even millions of documents for signature and action, then manual systems quickly become unmanageable, environmentally unacceptable, and prohibitively costly. Bulk signing with electronic signatures is an ideal solution.
There are several studies from reputable companies like Gartner and Sterling Commerce which estimate the average cost of processing an individual invoice is between £10 and £30. Some estimates put it higher still, at up to £50 per invoice.
It's not just about the financial costs either, as the environmental costs of paper-based systems are significant. The European market has a volume of about 30 billion invoices per year, which consumes more than 12 million trees.
The environmental impact and costs associated with paper production, distribution, handling and storage costs could be significantly reduced if electronic methods were used to replace paper-based invoices.
The same arguments apply anywhere where documents need to be signed in volume, for example in the medical, government and financial sectors.
The benefits of e-invoicing, e-billing, e-statements and e-contracts compared with paper-based systems include:
Documents can be mail merged and emailed or downloaded from a website and sent to thousands of recipients
Immediate delivery with rapid turnaround times compared with posting letters
Documents can be noted as read, signed, and receipts provided
Automated archiving for sent and/or received documents
Workflow progress is visible and can be managed throughout
Protect the authenticity and integrity of archived data using digital signatures and timestamps
Supports long-term validation
Ability to archive millions of documents electronically – rather than relying on paper storage systems or digital scanning services
Compliance with laws and regulations, for example with the EU VAT Directive
How is bulk signing a solution?
Many business systems can generate and send out electronic documents. It's important to establish trust with customers or partners, to ensure authenticity for both parties, and to answer these questions:
Who is this document from?
Has it been legally signed?
Has it been changed since it was signed?
Can I trust it, now and in the long-term?
The best way to establish trust is through the use of digital signatures.
To ensure authenticity and trust, the e-documents should be digitally signed before they are sent externally for the recipient to counter-sign and return. There are several ways digital signatures can be applied to e-documents before they are sent, but this is not something that can be done manually by administrators. You need an automated server-side solution to do that efficiently.
How does Ascertia's bulk signing work?
The Ascertia ADSS Signing Server can rapidly process millions of e-documents.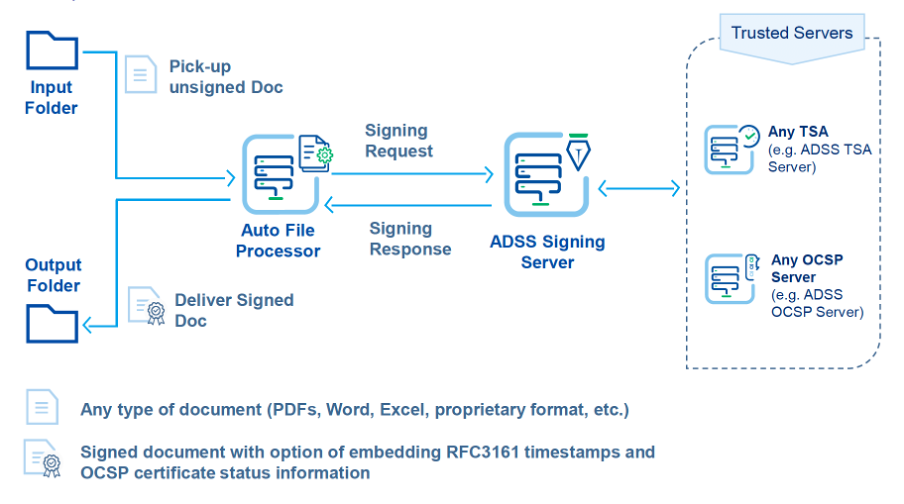 The watched folder approach
Ascertia's ADSS Auto File Processor (AFP) is an ADSS Signing Server application that provides businesses with a convenient way of processing large volumes of e-documents by using a watched folder approach.
It provides one of the simplest ways to utilise the power of the ADSS Server and can be easily inserted into a workflow system without any integration or development expense.
The main use of AFP is for bulk signing e-documents, particularly PDF invoices. It has been designed to provide intelligent watched folder monitoring of one or more Windows folders or Unix directories to process batches of e-documents in an unattended environment.
The AFP creates digital signatures by calling the ADSS Server with a specified signing profile. This pre-defined profile determines the type of electronic signature or digital signature to be produced and the signed e-documents are delivered back to the AFP which writes them to an output folder.
The signed e-documents are then ready to be sent out electronically.
Bulk corporate signatures
It's possible to create automated corporate digital signatures on bulk documents (e.g. e-invoices) using one or more centrally held signing keys e.g. in a secure Hardware Security Module (HSM).
Authorised server signing
Additionally, you can authorise the use of corporate digital signatures via signed requests from a pre-defined list of approved staff (e.g. business managers).
Usability of SigningHub's bulk signing
From the user perspective, bulk signing with Ascertia's SigningHub is easy to use.
Just like with a mail-merge, you can add multiple recipients by uploading a CSV file.

Each recipient must have a valid email address. It is a smart way for a document owner to add multiple recipients in a workflow through a single click.
In the SigningHub user interface, when you want to add recipients Click CSV .
A dialog will appear. Click to locate and select the required CSV from your system.



All the recipients inside the CSV (with valid email addresses) will be listed in a dialog box for selection. Select your choice recipient(s) and click the "Add" button.



The selected contacts will be added in the workflow recipients list. A default role of signer will be assigned and can be changed if necessary i.e. Signer, Reviewer, Editor, Meeting Host or Send a Copy.


Signature placeholders can be added as normal and then the document is ready to be shared.



The document will then go to 'Pending'. A user simply needs to go to pending documents and simply select the document they wish to sign.





Upon receipt of the document the recipient-user signs it in the normal way, completing the fields as required and electronically or digitally signing the e-document.


The originator-user can monitor the progress of the workflow in real time, receiving notifications each time a recipient-user signs their copy of the e-document, with completed e-documents being returned for action and archiving.
Bulk signing is a powerful feature of SigningHub that enables users to digitally sign multiple documents in one go. It saves significant time compared to opening documents and signing them one by one. This feature works when you are using either local (client-side) signing keys or server-side signing keys.
Learn more about bulk signing
Automated bulk invoice signing
ADSS Signing Server features
Bulk signing