Remote working has quickly become the new normal. Many businesses that were initially sceptical have experienced the benefits and many will likely continue with remote working long after it's necessary.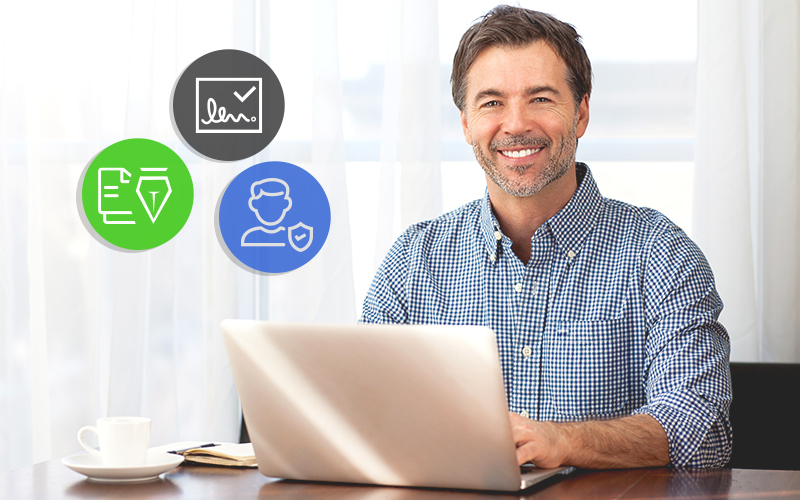 The barriers that once held businesses back from a complete remote setup have been lifted, but organisations do need to ensure the security and integrity of their information while securely identifying users and devices.
Below are some ways e-signatures and PKI solutions can help with the move to becoming a fully remote organisation:
Not all e-signatures are created equal
Did you know there are four types of e-signature? Click-to-sign, Basic, Advanced and Qualified. Each signature provides a different level of security and it's important to understand which one is right for your document and legal circumstance.
Although the terms e-signature and digital signature are often used interchangeably, there is a difference between the two.
Digital signatures must provide a way to authenticate the signer's identity. We have a useful FAQ that answers all the questions you might have about digital signatures and their uses.
Documents need to remain valid long into the future
Once you've signed a document with an electronic signature, it needs to remain valid and verifiable.
Time stamping from a trusted time stamping authority (TSA) provides independent and irrefutable proof of who signed a document, when they signed it and that it has not been altered.
This is especially important for legally binding documents such as contracts that could be later disputed in court. Long-term validation (LTV) signatures provide proof at the time of signing that the signer's credentials were valid, that no further changes have been made and also that the document remains valid even if certificates or credentials expire at a later date.
E-signatures are an efficient authorisation solution for business
One of the many benefits e-signatures have over traditional paper and ink signatures is efficiency. A document no longer needs to be printed, mailed, checked and sent back to be signed – this can all be done digitally, speeding up the process considerably.
For organisations that need to authorise hundreds, sometimes thousands, of documents a day (such as insurance policies), bulk signing automates this process without compromising on security.
And for organisations that require signing on behalf of the business rather than an individual, e-seals have a signing key that belongs to the corporation rather than an individual.
Qualified remote signing provides high-trust authorisation
There is no longer the need to travel halfway across the world to sign a document in person and some sectors have started to realise that in recent weeks.
Remote Qualified Signing enables businesses to authorise signing actions directly from their mobile devices, removing any need for smartcards or USB tokens.
A Qualified Signature Creation Device (QSCD) provides eIDAS compliant Qualified Remote Signatures, enabling businesses to create signatures remotely with signing keys held securely in the cloud. There's no need for any hardware, enabling secure signing from any device, anywhere.