Ascertia is delighted to announce the release of SigningHub 8.6.
SigningHub provides an intuitive web interface, making it easy for anyone to sign. Documents can be shared, viewed, and signed on any device, anywhere, anytime in a way that suits any approval process. Over 25 languages are supported and others can easily be added or customised.
The SigningHub 8.6 release is now available to download on the Ascertia Community. If you're not already registered, please request access from your account team.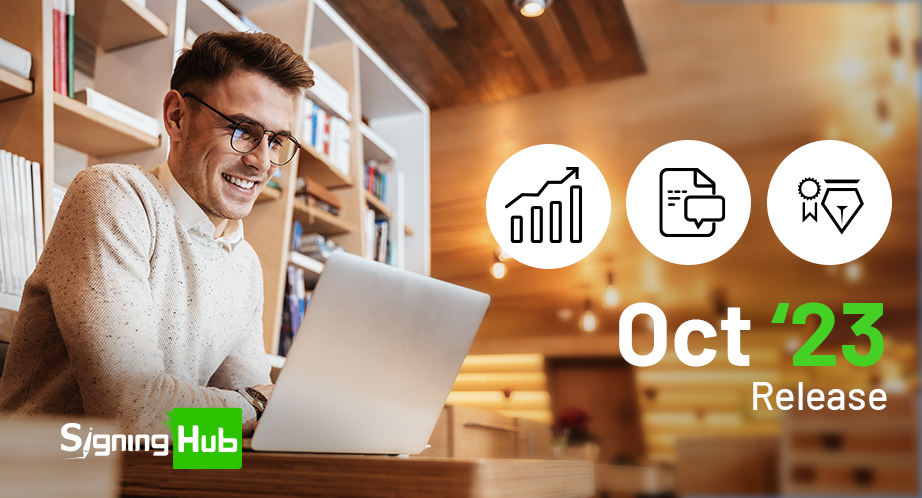 Ascertia customers and partners will benefit from the host of new features and improvements in SigningHub 8.6.
SigningHub 8.6 features and developments:
Advanced Reporting

Every organisation has different reporting requirements to show key stakeholders how systems are performing. Ascertia's SigningHub is a key part of the exchange of information and, as a result, businesses need to be able to see how SigningHub is being used by internal and external users.

SigningHub utilises Microsoft Power BI to offer advanced reports and allow administrators to create custom reports which mine data from the SigningHub database.

SigningHub will continue to ship with the current reporting features as standard. If you require custom reporting or a new type of report, advanced reporting will provide you with the reporting you need.

Document Commenting

Teamwork and collaboration are core values for most global businesses, and being able to collaborate, and comment on documents that need to be digitally signed is certainly no exception. Contracts, agreements and documents may need to be amended prior to them being signed, or terms and wording may need to be tweaked and approved before a document is sent to a signing workflow.

SigningHub enables document owners and recipients to collaborate on documents and workflows by enabling them to post document comments – both publicly and privately. Users can place comments anywhere within documents to indicate that a change may be required or to suggest alternate wording, and they can tag individuals or add comments that are visible to all workflow participants.

Levels of Assurance Signature Limits Based

An important part of operating a digital signature platform is being able to define controls and restrictions for system users to ensure a consistent experience for all users, and to set limits for different groups of users depending on their requirements for the solution.

SigningHub provides a new level of granularity by delivering an option to define signature limits for each level of assurance, enabling Trust Service Providers and Enterprises to define limits for different types of signatures and count the total number of signatures being consumed by each enterprise. This helps with purchasing certificates and attributing and accounting for each type of signature offered by the platform.

Document Listing Improvement

Being able to group and organise documents is a key element of any platform that processes documents. The SigningHub document dashboard provides an easy-to-use, at-a-glance view of all documents within the platform.

This release of SigningHub makes some important updates to the document listing module with users now able to click in a column header to order or update their view based on the contents of the column.

Users are also able to sort in ascending or descending order based on their needs, allowing them to export the view to Microsoft Excel to enable further analysis of documents.

SigningHub Business Application Integrations

SigningHub already enables developers to integrate its offerings into business applications and custom workflows, but version 8.6 expands this capability by making even more REST APIs available - enabling customers to build even tighter integrations.

Whether you are looking to create users, update system settings, manage contacts, set notifications or even update system branding, SigningHub has an API for you. The platform aims to deliver an API-first experience; please see the SigningHub 8.6 release notes for the complete list of APIs that are available for integration.
This release contains many other features and improvements to improve SigningHub for our partners and customers, please take some time to review the release notes in full - as well as the product documentation - for further information.
Ask your Account Team about Premier Success Services if you require assistance with upgrades or with performing system health checks.
Subscribe to the SigningHub blog for the latest product news and guides.