We'd like to share another customer case study with you, this time from Somo. The digital agency has built some of the most innovative and creative mobile products and campaigns in the market for leading global brands.

Business need:
Somo's main requirement was to find a solution that would decrease document turnaround times and keep track of all outstanding contracts and orders. For its legal department, compliance and legality were key factors when choosing a solution. In addition, the digital agency needed a secure eSignature solution to enhance its HR and finance workflows, including contracts associated with the agency's numerous contractors.
---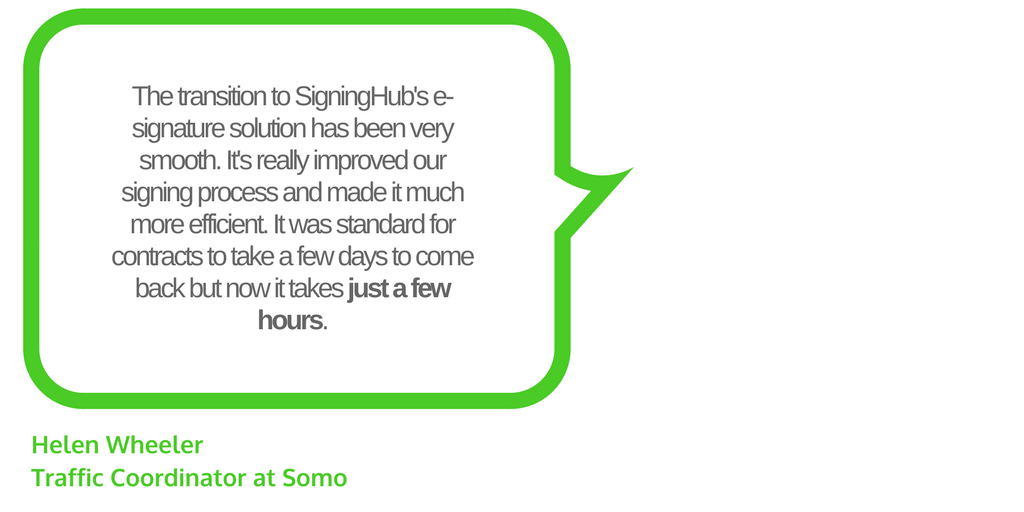 ---
Requirements for an eSignature solution were:
Decrease the document turnaround time
Keep track of all outstanding contracts and orders
Provide compliance and legality for use by the legal department
Selection process:
After trialling several other eSignature soltuions, including the market leader, Somo struggled to find a solution that met all its requirements. It received a recommendation for SigningHub, noting its secure signing process, ease of use and affordable pricing structure.
Solution:
Somo selected SigningHub by Ascertia as the solution to elevate its paper-baased signing process.
SigningHub's portal enabled the agency's users to monitor the progress of signing workflow documents and sends notification to the person delaying the approval process. It provides quick and easy visibility of the document approval process in the dashboard.
The use of advanced electronic signatures (AES) and SigningHub's unique signing keys prove the identity of each user. This process ensures signatures cannot be altered and are legally accepted. Document preservation and validity is ensured with PDF/A format support.
Result
After implementing SigningHub's eSignature solution, Somo has seen a dramatic acceleration in its signing process. It's enabled the team to approve projects faster and begin work sooner.
SigningHub allows the team to monitor the approval process, reducing the time spent waiting for contracts to be signed and returned. It ensures compliance and the legality of documentation. Ultimately, Somo has improved the overall efficiency of its contracting and order process.
Want to improve your document workflow and approval process? Sign up for a free SigningHub trial today.