Human Resources (HR) departments play a crucial role in companies. From recruiting top talent to managing employee benefits and confidential data, the paperwork required is vast and the need for security cannot be understated.
This blog discusses the challenges they face in managing documents efficiently and how implementing an eSignature solution can help.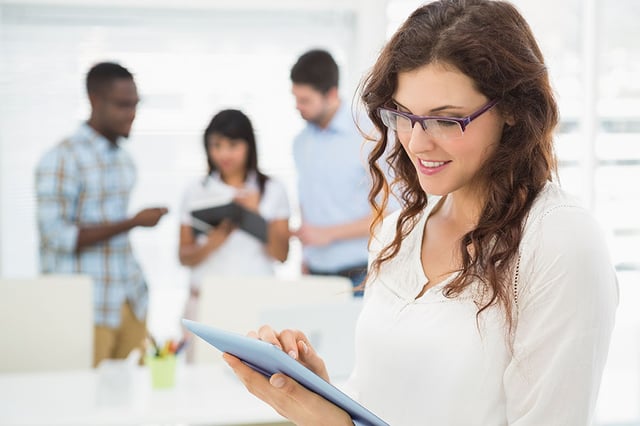 Challenges in HR document management
HR departments handle a wide variety of documents, including:
Employment contracts

Offer letters

Performance appraisals

Disciplinary notices

Termination letters

And much more
Ensuring businesses process these documents efficiently and securely can be a significant challenge, particularly for larger organisations. Here are a few of the specific obstacles HR departments face:
Efficiency: Paper-based document workflows can be time-consuming and error-prone. Printing, mailing and scanning documents can be costly and take days or weeks, causing delays in the hiring process, performance reviews and other critical HR functions.


Compliance: HR departments must comply with various regulations, including data privacy, anti-discrimination and labour laws. Failing to comply can result in legal action, fines and reputational damage.


Privacy: Human Resources handle a vast amount of confidential data, including National Insurance numbers, Social Security numbers, health records and performance appraisals.



Data breaches can produce severe consequences for employees and the organisation, including identity theft and lawsuits.
International laws and regulations for Human Resources
HR departments must comply with several international laws and regulations, depending on the countries they operate in. Here are some examples of the most important:
General Data Protection Regulation (GDPR) - The GDPR is a data privacy law that applies to all businesses that process EU citizen data. It sets out strict guidelines for obtaining consent, providing transparency and protecting data.


Fair Labor Standards Act (FLSA) - The FLSA is a US law that sets out minimum wage and overtime requirements for employees. HR departments must comply with its provisions, including exempt vs non-exempt classifications, recordkeeping and child labour restrictions.


Americans with Disabilities Act (ADA) - The ADA is a US law prohibiting discrimination against individuals with disabilities in employment. HR departments must comply with its rules, including reasonable accommodations and avoiding discriminatory practices.


Employment Equality Acts – The Employment Equality Acts are Irish laws prohibiting discrimination based on gender, sexual orientation, race, religion, age and disability in employment.


Labor Standards Act – South Korea's Labor Standards Act is a law that sets out minimum wage, working hours and overtime requirements for employees.


Employment Ordinance – The Hong Kong Employment Ordinance regulates the terms and conditions of employment, including wages, working hours and leave entitlements.
This is not an exhaustive list. These are just a few examples of the many international employment and data privacy laws and regulations HR departments must comply with to avoid legal liability and reputational harm.


How do eSignatures help when working with contractors, subcontractors and consultants?
Companies often work with these individuals, and they may not always be physically present in the same location. Esignatures offer a convenient solution for obtaining signatures.

With eSignatures, companies can send documents electronically and obtain signatures anywhere, anytime, using various devices, including mobile phones and tablets. This flexibility saves time and resources, ensuring the document workflow doesn't delay the hiring process or project deadlines due to physical distance.
Esignature benefits for Human Resources
Electronic signatures can help streamline HR processes in several ways, including:
Efficiency
Esignatures reduce the time it takes to process documents significantly. They eliminate the need for printing, mailing and scanning documents, reducing costs and the risk of errors or delays.

Compliance
Electronic signatures help HR departments comply with the many regulations they are subject to, including GDPR, by providing a secure and auditable way of obtaining signatures. They ensure that documents are legally binding and that individuals have given explicit consent to processing their data.

Privacy
Esignatures provide an added layer of security to HR documents. They ensure that only authorised individuals can access sensitive data and that documents cannot be altered or tampered with.
Streamline HR document workflows and improve efficiency with SigningHub
SigningHub is a cloud-based eSignature solution that enables organisations to streamline document workflows and ensure data privacy. Here are a few examples of how SigningHub can help your HR department:
Secure eSignatures



SigningHub provides a secure and auditable way of obtaining signatures regardless of the signer's location. It complies with international eSignature laws and regulations, including eIDAS. The platform ensures documents are legally binding and that individuals give explicit consent to processing their data.




Workflow efficiency



Ascertia's SigningHub offers several features to simplify document workflows. Documents can be sent for signatures from anywhere, at any time, using various devices with an internet connection. This feature saves time and resources, reducing the risk of errors and delays.




Document privacy



Organisations can rest assured that their employee, customer and partner data is secure with SigningHub. It provides a secure environment for HR documents.





Documents are encrypted in transit and at rest, ensuring only authorised individuals can access sensitive data. This functionality reduces the risk of data breaches and ensures complete compliance with global data protection laws.




Seamless integration



Ascertia designed SigningHub to work with your business's existing software and platforms. It integrates with various HR software, including popular tools such as Workday, SuccessFactors and Oracle HCM.





It allows Human Resource professionals to streamline workflows even further, reducing the need for manual data entry and the risk of errors.




Esignatures offer a wealth of benefits for the Human Resources department, including increased efficiency, compliance with regulations and improved document privacy.
With the help of electronic signature solutions like SigningHub, organisations can ensure their data is protected while streamlining workflows and the risk of errors and delays.
Contact our team to discuss how we can help modernise your HR department.