E-signatures are being extensively adopted across most industries to improve security, reduce the use of paper, accelerate approval processes and enhance workflows.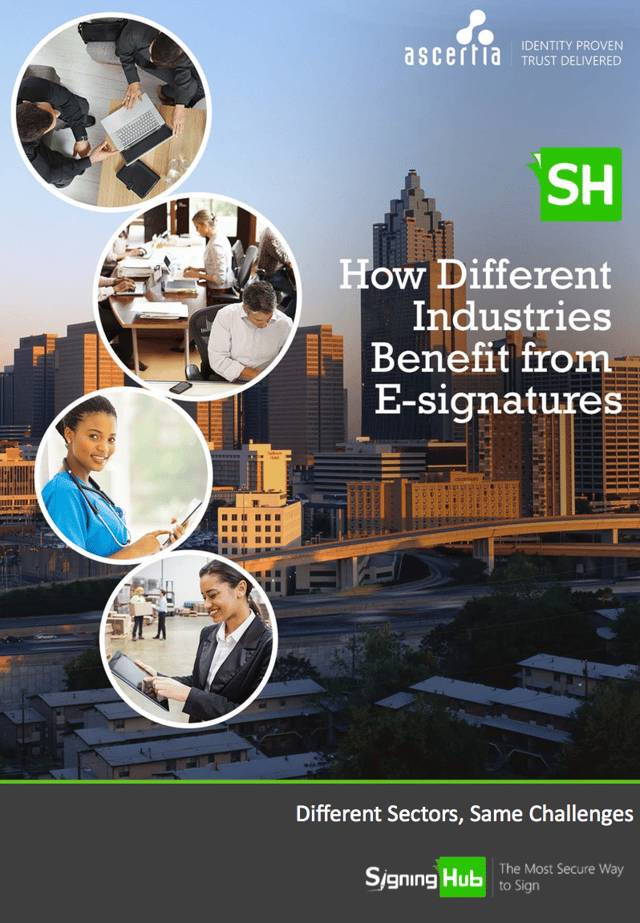 The last ten years has seen steady growth in the sector, however the introduction of the EU eIDAS Regulation last year significantly boosted adoption of e-signatures. This supplanted previous country regulations that had prevented widespread use of digital authentication across Europe.
Each industry, however, has very different requirements when concerning e-signatures, both from the perspective of businesses practices and also regarding regulatory compliance.
To help you choose an e-signature solution, we have produced a new eBook: How Different Industries Benefit from E-Signatures. The eBook, which is available to download here, highlights the many benefits of e-signatures, and whilst it focuses on five specific industries, its advice is applicable to many more.
We look at how even the most cost-conscious sectors, such as those that are state-funded, can adopt e-signature technology to help them meet their legal and administrative responsibilities, including the keeping of precise records. SigningHub is being used by Government departments in various countries to remove the costs associated with paper and help speed up long approval processes.
The solution is also bringing advantages to sectors with complex technology and regulatory ecosystems and the eBook examines how SigningHub is playing its part in helping the banking sector to manage one of its biggest challenges, security risks.
We also look at how, by delivering a digital audit trail, digital signature solutions can help to streamline the multiple signing stages in heavily regulated industries such as pharmaceutical, manufacturing and, in architectural practices, where designs and planning records progress through many stages of document approval before coming to fruition.
The agility of e-signatures is particularly beneficial in contract-intense sectors, and the eBook details how estate agents have been able to speed up transaction times and improve the rate of sale using SigningHub, including property sales to overseas buyers.
These industries have parallels with countless others, and the eBook is an essential guide to how secure, legal and mobile e-signing can revolutionise business practices across multiple sectors.