Today we are continuing our series on how different industries benefit from e-signatures. This time the legal sector is our focus.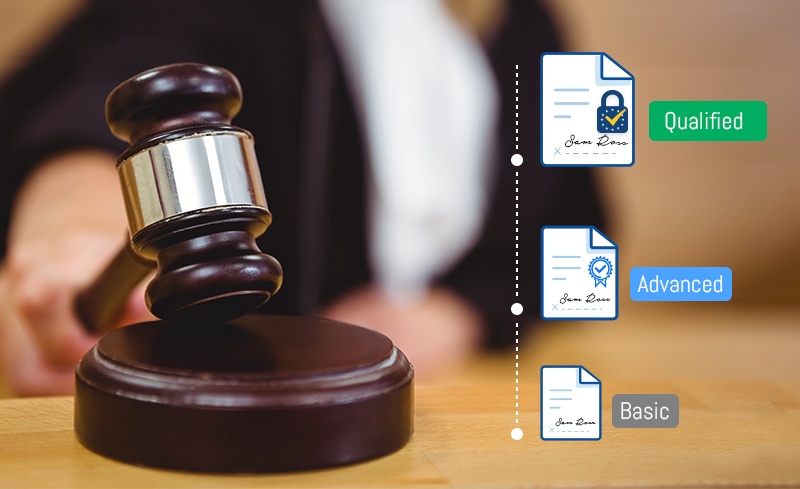 The importance of signatures on legal documents is paramount. Whilst e-signatures offer immeasurable potential in terms of the efficiencies they bring to legal processes, there is a real need to tread carefully to ensure that the right type of e-signature is being applied at the right time and on the right document.
Clearly this means choosing an e-signature solution that provides high-trust, legal certainty and long-term validity, as well as a solution that offers the flexibility of basic, advanced and qualified options to suit every legal requirement.
Why is this mix important?
Because whilst a basic signature will be sufficient for many business tasks, when it comes to legal documentation, the requirement is nearly always for a technically robust signature that is admissible in evidence. This is when it is advisable to use advanced and qualified e-signatures.
Regulations and compliance
Solutions like SigningHub comply with a range of digital signature legislation including the EU eIDAS regulation. This has been an important enabler for the adoption of e-signatures by law firms in recent years, made more useful by the fact that it regulates all EU member states.
eIDAS provides a clear set of guidelines and legal acceptance of eIDs (electronic identity) and e-signatures. It also includes the use of e-seals, a corporate signature that can be used to automate bulk signing of documents.
Law firms and legal departments have a duty to ensure they trust the eID of the parties they are dealing with. The way they can do this is by ensuring PKI-based digital certificates are being used, which help to make communications channels in protocols such as SSL (Secure Sockets Layer), TLS (Transport Layer Security) and IPSEC (Internet Protocol Security) even more secure.
Despite the need to move ahead with caution on legal documents such as contracts, deeds and purchase agreements, there are countless other documents that support processes in law firms that also require signatures, and this is where eliminating paper-based practices can have the most benefits.
This will not only help to improve productivity and save time, but it also uses less paper, lowers physical storage requirements and reduces costs.
Get in touch today if you work within legal services and would like to learn how to increase efficiency, productivity and cut costs with SigningHub. If you'd like more information about the legality of e-signatures check out our eBook.