SigningHub by Ascertia is a complete e-signature and document workflow solution, available as a cloud service or as an on-premise product for when complete control of your documents is required. Find out how it can help streamline your business processes with this guide on how to use SigningHub.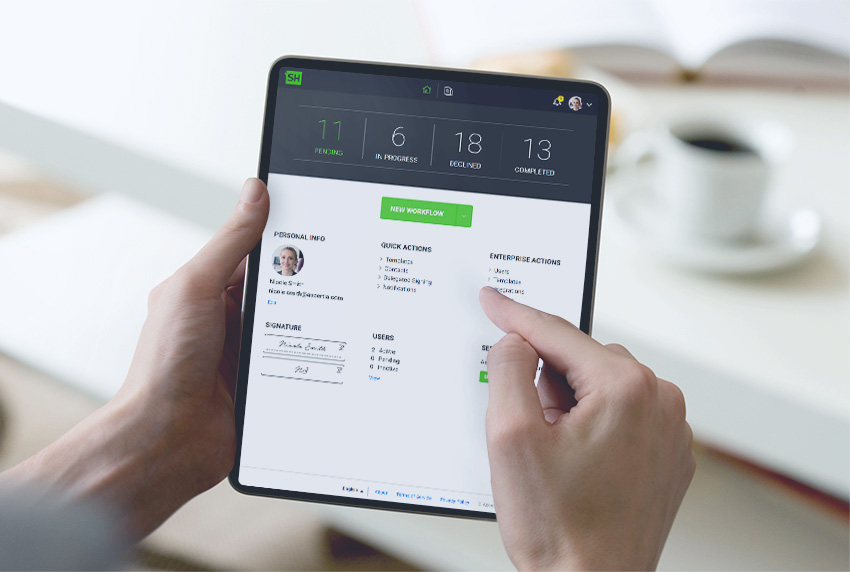 A step-by-step guide: How to use SigningHub
SigningHub adds essential digital trust to documents for enterprises, governments and Trust Service Providers (TSPs). It increases process efficiencies, eliminates paper costs and reduces risks. With millions of end users, Ascertia's award-winning SigningHub provides instant access for signing and approving documents from any device, anywhere.
This guide is the first in a series to walk you through how to use SigningHub's flexible eSignature solution to support all your document signing needs.


How to register for SigningHub
Registering to use SigningHub is quick and easy. Navigate to our website and click on 'Free Trial'. Clicking on this will give you access to the SigningHub registration page.
You'll need to enter your name, email, phone number, job title and company name. We ask all users to perform a Captcha check and agree to Signing Hub's terms and conditions to ensure complete security. Once you've filled out the form, click 'Start Free Trial'.
Once you've entered your details, you'll be sent a verification email. In the email, you'll need to click on a validation link to access SigningHub's dashboard. Verification emails come from info@signinghub.com and can sometimes arrive in your spam or junk folder. It's important to check those boxes if you've not received it.


How do I use the SigningHub dashboard?
SigningHub's dashboard was designed with users in mind. You can easily find everything you need under a section of relevant headers.
At the top, you'll see a breakdown of your current and past documents, pending or in progress and any documents that have been declined or completed.
From the dashboard, you have access to your active users, with the ability to add users at any time, along with your most frequent document signers. Under the 'Quick Actions' header, you'll find templates for signatures, contracts, delegate signing and your notifications for easy, instant access to the features you use most.
The SigningHub dashboard also allows you to effortlessly change your signature style and your personal or enterprise settings. For more information on using the SigningHub dashboard, please contact our team.


What makes SigningHub different to other eSignature solutions?
SigningHub by Ascertia gives your business the best value for money with flexible options to suit individual business needs, including:
Seamless deployment, document storage and data security
Available as a cloud-based service or an on-premise product
Complete control over your eSignature environment and user experience (UX)
Fully customisable user interface (UI) that can be fully branded for rapid user adoption without the need to train teams
Transparent pricing designed for evolving business needs and core usage
Unrivalled scalability to meet growing business requirements
Easily select the right level of assurance for signers for globally legal enforceability
Simplify electronic signing via eID, smartcard or through the cloud
Seamless integration with existing business-critical applications
Over 30 supported languages
Increased sustainability and cost-savings by adopting a sophisticated, digital workflow
Connection to multiple Trust Service Providers (TSPs) for legally binding, standard-compliant digital signatures
Unparalleled signature integrity with digital timestamping and validation
Long-term collaborative relationships with customers and partners
Access to specialists in the field, supporting your business with an award-winning team.

How to upgrade Your SigningHub plan
Upgrading your free trial to a paid subscription plan is easy. Simply navigate to our website and click on 'Pricing' on the top bar. The features of each pricing plan are included under each type, to help you choose the solution that suits your business's needs.
Should you need the on-premise signature service, click on 'Contact Us' and provide us with your requirements. We'll be in touch with a tailored quote covering your business's specified requirements.
Ascertia is a UK-based, specialist eSignature provider focused on standards-compliant digital signatures, including EU eIDAS. With over 20 years of experience, Ascertia delivers high trust products and services for enterprises, governments and TSPs.

Visit our website or contact our team to start your free trial today.