The Industry Working Group on eSignatures Interim Report includes analysis of e-signature adoption in England and Wales, as well as providing suggested best practices that could increase uptake of the technology on a wider scale.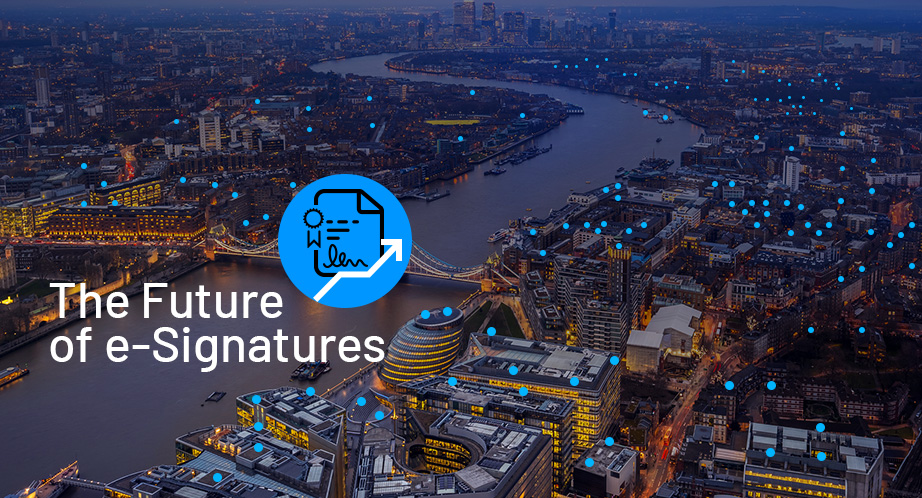 What the Electronic Execution of Documents Report teaches us about e-signature adoption
The report includes many interesting findings, discussing the current e-signature landscape in the UK, highlighting the positive shift in attitudes towards virtual working and by extension, digital IDs and document authentication.
The report also covers Qualified and Advanced electronic signature usage in the UK, perception and potential obstacles for businesses adopting electronic signatures and suggestions to further electronic signature adoption.
Principles for electronic signing
One of the most interesting elements of the report are the suggested principles for electronic signing.
The report defines the five principles:
Agree as early as possible that a document is to be executed electronically and the procedure for doing so. Determine the optimal form of electronic signature for the transaction, and in particular which eIDAS category (Qualified, Advanced or Simple) is required. This should be a matter of user choice (depending on nature of parties/risk level/value/personal circumstances) and larger users should establish policies in relation to this.


Where a signing platform is to be used, choose one that provides at least a minimum set of security/safety/functionality with a strong audit trail that demonstrates an intention to sign by the signatories. Such platforms should at the very least include the ability for signing parties to download/retain executed documents. In particular, storage (so-called 'shelf life' of documents and their audit trail details) should be clearly identified by the signing platform to enable informed choice by signatories.


Consider whether additional evidence to record the identity of the signatory and the fact that the signatory is approving the document and has the intention to be bound is necessary and/or appropriate, for example simultaneous video recording.


Where possible, provide multiple options to vulnerable customers or counterparties so that these groups can adopt a method of signing that suits their needs.


Intention to authenticate should be easier to demonstrate for those with secure digital identities, but the latter should not be essential.
We agree that adopting this approach provides the best chance of a successful transition to electronic signing for an organisation and its partners. Education around the benefits and legality of e-signatures helps to ensure long-term usage of e-signature solutions. E-signatures can improve business workflows and reduce the costs associated with paper-based signing and archiving.
Ascertia's solutions provide the flexibility and integration to adapt electronic signing to a business' needs. We offer both on premise and cloud signing solutions, compliant with the latest standards.
Ascertia has a global network of partners and works regularly with governments to provide secure, high-trust and long-term signing solutions for a wide-range of use cases and requirements.
Four steps to follow for electronic execution
The industry working group define what they see as the four steps of electronic execution as:
Step 1: Agree in advance that the document will be executed electronically and decide on which procedure will be used in order to do so
Step 2: Circulate signing instructions that are as clear as possible
Step 3: Circulate the relevant documents after signing is complete
Step 4: Handle information or data collected as part of the signing process appropriately
Growing e-signature adoption requires all parties to understand the electronic approval process. Users can be reluctant to switch from paper-based methods if digital trust and integrity has not been discussed. It's important to communicate the integrity and authentication processes clearly to all parties to ensure trust in the digital signing solutions being used.
One of the recommendations of the report is that the government should lead from the front and adopt e-signatures in its processes:
"Government should take steps now to adopt the use of electronic signatures in its transactions with third parties, whether providers of goods or services to government or the public… The group considers that the Government acting as an "early adopter" in this way can only encourage the widest possible use of electronic signatures within society, ultimately saving costs and time, and demonstrating that this jurisdiction is fully embracing digital capabilities."
National and local governments are committed to digital transformation and many countries have launched national initiatives to increase the use of electronic authentication and processes, including electronic invoice submission and national eID schemes.
In the UK, the government's G-Cloud digital marketplace provides public sector and government departments with a directory of approved suppliers to encourage the adoption of digital technologies.
The report also mentions standardisation as one of its recommendations. Ascertia is part of the Cloud Signature Consortium, an organisation committed to building a new standard for cloud-based digital signatures.
Ascertia's standards-based approach also ensures that our solutions are compliant with the latest regulations and certifications, including eIDAS, to ensure our customers can continue to deliver high-trust electronic signatures.
Adrian Walker, Sales Manager at Ascertia will be attending the LGA Conference in Harrogate 28 - 30th June. Visit him at stand Q32 or get in touch to arrange a meeting.