Designed to help businesses successfully digitise their business processes, SigningHub improves efficiency, boosts productivity, ensures security and saves time and money over the traditional signature process. This blog, the fourth and final in our 'How to Use SigningHub' series, explains how easy it is to use SigningHub's apps and integrations for your existing apps, software and platforms.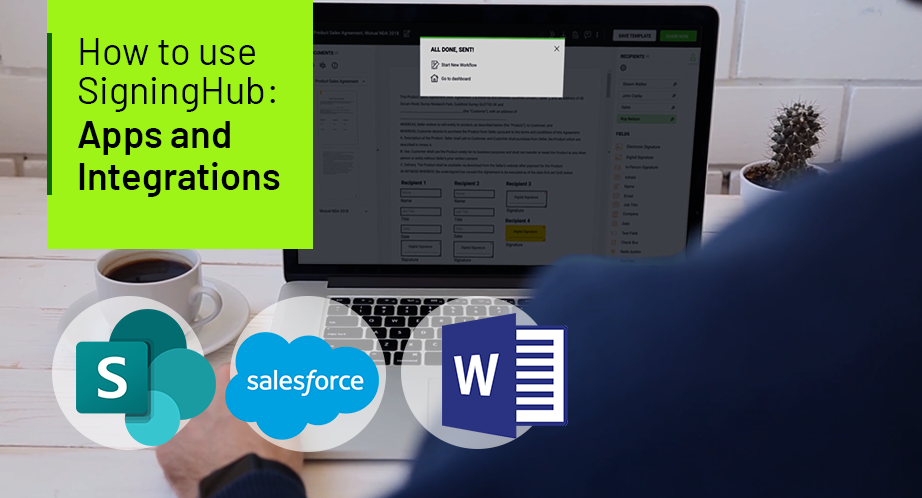 No two businesses use identical software to perform their required processes. To help facilitate digital signing solutions that meet varying business needs, SigningHub can be adapted to multiple business-critical apps and software.
From SharePoint and Word to on-premise signing solutions, SigningHub by Ascertia can help meet your business's requirements.
How to Integrate SigningHub into SharePoint
SharePoint by Microsoft is a web-based collaboration solution that millions of businesses use to store and share documents within their organisation.
To begin, download the SigningHub for SharePoint app. This app enables your business to streamline the electronic signature process by facilitating remote signing from anywhere on any device.
Once you've installed SigningHub for SharePoint, you can share documents for signing from any document library. To share a document:
Navigate to the library where the document is located
Click the tick mark to the left of the file and navigate to the far right of the menu bar above the files
Choose the three dots and select 'Share'
Navigate to 'SigningHub' under the Share menu
From here, you can add recipients from your SharePoint contacts or your corporate directory. To automate the preparation process, you can use a pre-defined template to save time, such as for contracts. When ready, click the 'Prepare' button and sign in to SigningHub using your login credentials.
Once logged in, the document will load within the SigningHub interface. For each of your indicated signers, you can place a signature field in the desired location on the document. Other fields, such as name, initials and company can also be placed within the document.
After you've added all the fields you require, and the document is ready to send, click the 'Share' button in the upper right corner. SigningHub instantly notifies the recipient via email that there is a document requiring their signature.
By clicking on the link in the email, the customer will be directed to log in to SigningHub. After logging in, signers can view, fill in and sign using the navigation tabs on the left side of the document. Once the recipient completes the signature process, the Document Status Summary is updated inside SharePoint.
How to integrate SigningHub into Salesforce
Salesforce is a well-known and widely used customer relationship management solution (CRM) that provides a full view of customers from a sales, service and marketing perspective on one centralised platform.
To begin, download the SigningHub for Salesforce app. It will enable you to get documents signed in minutes from anywhere and on any device, all from within your Salesforce environment.
Once SigningHub for Salesforce is installed, you can share documents that are ready to be signed. Documents can be sent from your Salesforce 'Notes and Attachments' section. You can share documents within the Salesforce interface, from:
Accounts
Opportunities
Leads
Campaigns
Custom objects added through the '+' sign on the navigation bar at the top of the Salesforce interface
To share a document, click on the 'Share Using SigningHub' button located at the top centre of your Salesforce screen. Once clicked, the SigningHub app will show a list of documents available for the chosen customer, lead or opportunity. Select the document you want to be signed and click 'Next'.
You can add recipients from your Salesforce contacts, and once ready, click 'Prepare' to move to the next step. Clicking this will prompt you to log in to SigningHub using your Salesforce credentials.
From here, the steps for adding signature and optional fields are the same as SharePoint, as are the customer's steps for signing and returning the document. Set your document up for each recipient, click 'Share Now' and you'll be returned to the opportunity area within Salesforce.
You can track the status of your document within Salesforce in real time. As soon as the recipient signs the document, the document's status is updated to 'Completed' in Salesforce.
How to integrate SigningHub into Microsoft Word
In operation for nearly four decades, Microsoft Word is word processing software used by most global businesses.
To begin, navigate to the 'Insert' tab within Microsoft Word and navigate to 'My Apps'. The SigningHub for Word add-in is available to download from the Office store using an Office 365 account.
Next, you'll need to log into your SigningHub account via the Microsoft Word app area. To add recipients to your document, navigate to the 'Insert' tab and choose 'Signature Line'. Fill in the applicable details, i.e. name and email address. You'll need these for later. Position and resize your signature field to fit your requirements.
You can add multiple fields to your Word document if there are several signatories. Each signature field identifies its signer by the email address you've entered for them through the Word 'Signature Line' function. The SigningHub app will automatically show your chosen recipients (signers) in the SigningHub workflow.
Once you're ready to share for signing, click on 'Share' in the bottom right corner of your Word document. SigningHub will notify recipients via email that they have a document that needs their review and signature. Recipients will review, fill in and sign their document using the standard SigningHub process.
What's different about SigningHub for MS Word is that the original document is retained in Word format and can be verified with anyone running MS Word 2013 or later. The documents do not have to be converted to PDF for signing purposes.

SigningHub's security engine, ADSS Server, is certified as a trustworthy system under EU standards (CWA 14167-1) has become the first in the world to pass the stringent Common Criteria EAL4+ certification process (EN 419 241-2 Protection Profile) which represents the highest-level of trust in a remote Qualified Signature Creation Device (QSCD).
Contact our team for more information about how SigningHub can help your business.