Our latest industry-focused blog discusses how the pharmaceutical industry can use SigningHub's eSignatures to strengthen document security, ensure compliance and increase productivity. Other blogs in this series focus on government, banking and finance and construction.
While healthcare is different across the world, one thing remains the same – the need for compliance. The pharmaceutical industry is one of the most heavily regulated industries. There are numerous legal and regulatory requirements for the sector. It makes conducting clinical trials and managing compliance challenging.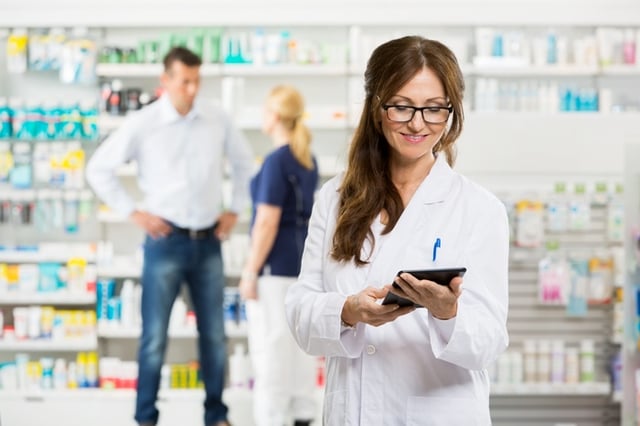 Data protection laws and regulations in the pharmaceutical industry
Privacy and data protection have been hot topics for a while. These laws are essential in the pharmaceutical sector to protect patient confidentiality.
General Data Protection Regulation
The General Data Protection Regulation (GDPR) came into effect on 25 May 2018, across the entirety of the European Union (EU). It applies to any organisation that processes the personal data of EU residents – regardless of their location. The National Health Service (NHS) in the UK falls under these regulations.
GDPR requires the pharmaceutical industry to obtain explicit patient consent before collecting and processing their data. Additionally, it mandates that patients have the right to access, correct and erase their data.
Health Insurance Portability and Accountability Act
Health Insurance Portability and Accountability Act (HIPAA) is a US federal law that provides privacy and security protections for medical information.
It requires healthcare providers to protect the privacy of their patient's medical records and other private health information. HIPAA also gives patients the right to access and control that information.
Health Information Technology for Economic and Clinical Health Act
The Health Information Technology for Economic and Clinical Health Act (HITECH) is a US law enacted as part of the American Recovery and Reinvestment Act in 2009.
It incentivises healthcare organisations to adopt electronic health records (EHRs) and sets guidelines for patients' health records privacy and security.
Personal Information Protection and Electronic Documents Act
The Personal Information Protection and Electronic Documents Act (PIPEDA) is a Canadian federal law governing private sector organisations' collection, use and disclosure of personal information.
Healthcare organisations, including the pharmaceutical industry, must obtain patient consent before collecting or using their personal information. All pharmaceutical companies must take appropriate measures to protect private citizen data.
Global pharmaceutical industry challenges
Pharmaceutical companies are among some of the most heavily regulated organisations. The challenges are many, from paper-intensive document processes to strict regulations, legal scrutiny, and maintaining proper evidence during clinical trials.
New drug development
According to Cancer Research UK, developing new medicine takes up to 15 years. The process involves multiple stages, including clinical trials. These processes contain countless documents before a pharmaceutical company brings the new drug to market.
As you would expect, this process involves a substantial amount of paperwork. Much of this documentation is:
Highly sensitive private and confidential patient data
Considered valuable intellectual property (IP)
Required to be retained for a considerable time for regulatory reasons but also due to the risk of public litigation.
Overseeing the sharing, approval and storage of hundreds of thousands of documents can be extremely challenging. This is especially true within a global organisation where multiple departments can be involved in a drug's development.
Clinical trials
Clinical trials involve multiple stakeholders, such as:
Investigators
Sponsors
Regulators
Each stakeholder generates a significant amount of documentation. It can be challenging to maintain accurate and complete records of clinical trials, specifically if the company uses paper-based documentation.
The use of eSignatures can help solve this challenge. They provide a more efficient and secure way to manage document workflows.
Regulatory compliance
Another challenge the pharmaceutical industry faces is maintaining compliance in different jurisdictions. For example, a clinical trial conducted in the United States may have different regulatory requirements than one conducted elsewhere.
Ensuring compliance with varying regulations can be challenging, specifically if not using electronic document approval and storage.
Esignature compliance
Ensuring pharmaceutical eSignature compliance is one of the most significant challenges the sector faces. Non-compliance can result in several legal and financial consequences.
Ensuring electronic signatures are compliant globally, can be achieved by:
Understanding global regulations – Ensure you're well informed about:

Electronic Signatures in Global and National Commerce Act (ESIGN) in the US
FDA 21 CFR in the US for eSignatures and electronic records requirements in the pharmaceutical industry. Read more about how to comply with Title 21 of the Code of Federal Regulations on our blog
eIDAS and the Pharmaceutical Inspection Co-operation Scheme (PIC/S) Good Practices for Computerised Systems in Regulated GxP Environments in the EU

Develop an eSignature policy – Put a comprehensive plan in place that outlines the process for creating, implementing and managing electronic signatures. It should include provisions for eSignature validation and security and document integrity.


Use secure technology – Using secure technology, such as SigningHub, ensures the pharmaceutical industry complies with global regulations. Esignatures ensure the document's integrity, non-repudiation and provides tamper detection on the signed document as well as a tamper-evident record of the signing process.
How eSignatures can help solve non-compliance challenges
Circulating and approving documents securely used to be a time-consuming operation. Highly secure digital signing solutions, such as SigningHub, are transforming this process, especially for sensitive documents such as:
R&D documentation, intellectual property, patents
Electronic patient records, case reports and clinical trial documents
Quality assurance evidence
Legal reports and guidance
Commercial and strategic documents
Regulatory compliance and audit records
With SigningHub, printing, scanning and physically storing documents is no longer necessary. Compliance is easily enforceable, and adherence to eIDAS eSignature regulations delivers further security benefits. Decision-making is faster and global teams can work closer together
Pharmaceutical companies should tread carefully. Make sure your chosen electronic signature solution is high-trust. Otherwise, signed documents may not hold up in court. As always, do your research to ensure your business meets this requirement from the outset.
Contact our team to learn more about how SigningHub can help streamline business processes while ensuring complete regulatory compliance.